The technique of knitting with circular needles allows you to make garments by working in the round without seams.
But how many times have we found ourselves in trouble, maybe making a hat when you reach the top and only have a few stitches on the needles, they don't budge?
Much less when we have to start with just 5 dots to form a circle!
Then the Magic Loop technique will help us, with which you can move the stitches on the circular knitting needles, which will facilitate the work process.
This tutorial explains it very well
which is the best thing for me.
It is explained in Italian and is very clear.
So where's the problem you say?
First of all, I'm not a girl anymore and my memory sometimes goes wrong. I start with one iron but then I don't know if I'm in the first or second half. Whenever I'm interrupted by the phone ringing or whatever, I'm coming home from work and then I have a hard time remembering where I've been.
So I came up with this little trick.
If the number of stitches is odd, for example 5 to make the stars, there are no problems. I always divide the stitches the same way: 2 on one needle and 3 on the other, as you can see in the photo.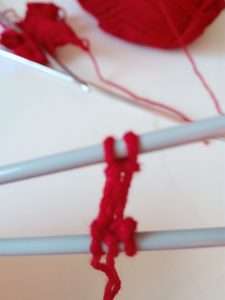 But even if the number of links is the same, I use the same division.
So I always know how many stitches I need per half round and always know where I am when increasing.
just right? You can find the best tutorial  there
She explains in Italian and is very clear.