My nephew-in-law are decorating their new home.
Modern style, very particular, red color predominant color.
They are married for several years, so they already have everything they need at home.
It is becoming increasingly difficult to get an idea of ​​the gift to be made at the opening of their home!
I know they have bought a beautiful black velvet sofa from Calia Salotti of Matera, and then ….
Here, I thought I would create a unique, unique, unrepeatable pillow.
They have no children, but a cute little dog named Nanà whom they are very fond of.
Cute, right?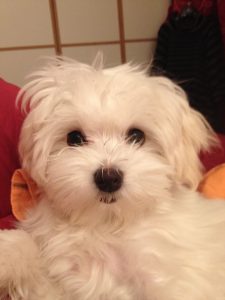 So I made a picture of Nanà, I bought a nice piece of Valentino red velvet fabric, photographed on the computer and translated into cross stitch pattern, needle, embroidery thread and …
this is the result        !